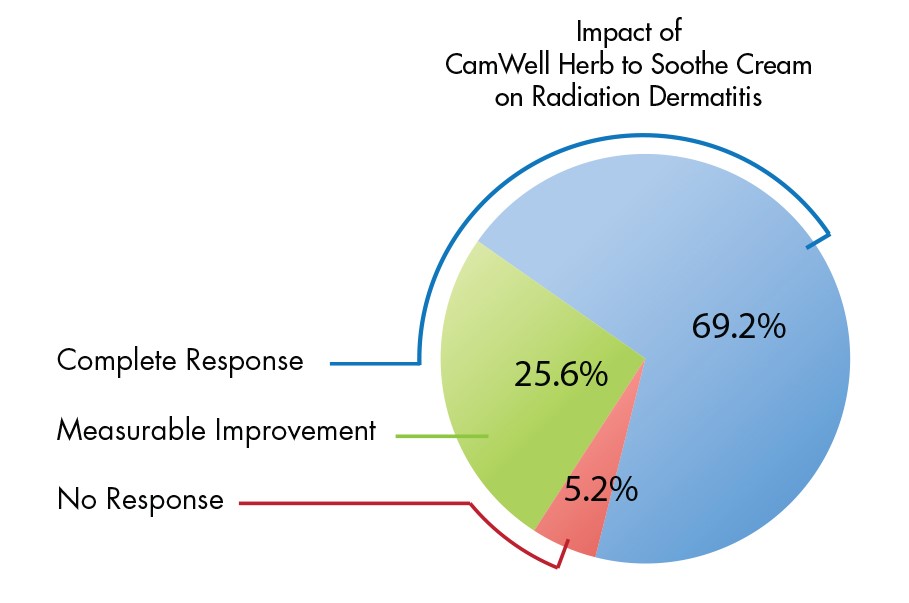 Cancer treatments, while often life-saving, can also bring an array of side-effects that range from uncomfortable to life-threatening. One of the least talked about areas of side effects are those that affect the skin.
For example, acute radiodermatitis (also known as radiation burns) caused by radiotherapy (RT) among cancer patients is a common side effect with the incidence of 90% higher showed in literatures. It can not only influence the therapeutic program but also bring suffer to patients and impair their quality of life (QOL).
The CamWell oncology-specific botanical creams developed by Unitech Medical have been formulated to treat conditions such as this. As part of the Integrative Cancer Review's mission to find integrative modalities that are safe, effective and accessible, we had a recent conversation with Terri Burke, V.P. of Customer Care at Unitech Medical, a Minneapolis-based company established in 2005, to discuss their oncology-focused products.
What are the CamWell Products that Address the Side Effects of Cancer Treatment?
Unitech Medical is, dedicated to helping improving quality of life for people worldwide. CamWell™ is our line of oncology-focused products that are designed to improve the quality of life for cancer survivors and to help manage the side effects of cancer therapies.
The CamWell oncology-specific botanical creams include The Herb to Soothe™ herbal formula, which has been used clinically for over 20 years, and the Hand to Heal™ herbal formula, which has been used for over 10 years.  Both formulas are based on the herbal compatibility theory of traditional Chinese medicine.
Can You Tell Us about the Research Related to These Oncology-focused Products?
The CamWell creams are formulated by oncologists to specifically address the multiple symptoms of the skin-related side effects of cancer treatments and we have research to show their effectiveness.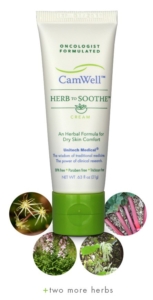 Herb to Soothe™ is formulated to address radiation dermatitis (sometimes known as radiation burns).  At the 2013 Society for Integrative Oncology conference, our representatives presented their abstract: "Randomized, Controlled, Open-Label Clinical Study of Chinese Herbal Formula 'Erhuang Jian' to Reduce Acute Radiation dermatitis Induced by Radiotherapy." According to the research, the Chinese herbal medicine 'Erhuang Decoction' for external use may be an effective and safe treatment for acute radiation dermatitis.
This is the active ingredient in the Herb to Soothe™ cream. The full abstract of this research can be found here.
In this open-label clinical study, an amazing 95% of patients experienced partial (25.6%) to total (69.2%) recovery from radiation dermatitis using Herb to Soothe™.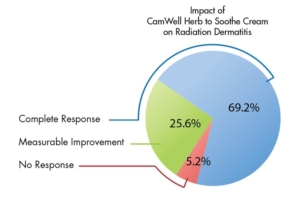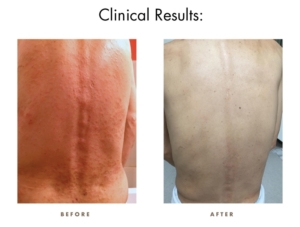 Hand to Heal™ is formulated to address the Hand Foot Syndrome/Hand Foot Skin Reaction in patients undergoing chemotherapy, targeted therapy or immunotherapy, with the following results in clinical studies:
In a randomized, double blind, placebo controlled clinical study, 83% of patients experience partial (46.3%) to total (36.6%) recovery from Hand Foot Syndrome after using Hand to Heal™ botanical cream.
Average treatment time for grade level decrease in patients using Hand to Heal™ cream was 7 days shorter than placebo.
The Randomized, Double blind, Placebo Controlled Clinical Study was presented at Eighth International Conference of Society for Integrative Oncology in Cleveland, Ohio, November 2011. The full abstract is available here.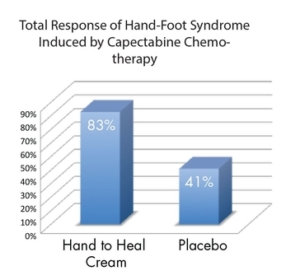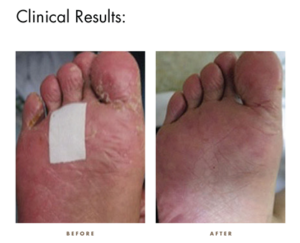 Can You Tell Us about the Safety of the CamWell Products?
What's unique about the CamWell products is that they are extremely effective without the use of harsh chemicals. CamWell products are over-the-counter and are rated as safe by the Environmental Working Group.
We believe patients should have products that will not cause further irritation to their sensitive skin during already difficult cancer treatments.  Additionally, we have found that many patients prefer a product that is all-natural. Some patients are surprised at the light brown color of our lotions, but keep in mind, this is the natural color of the herbs without bleaching or any artificial colors.
The CamWell creams are made in Minnesota, USA and contain no added color, no added fragrance, and no added steroids. They are nut oil free, ethyl alcohol free, and free of irritant chemicals such as petroleum, propylene glycol, phthalates, triclosan, formaldehydes, parabens, paraffin, and retinyl palmitate.
Product safety is becoming increasingly important to patients and they are looking for safer solutions every day. The CamWell creams take advantage of powerful medicinal herbs that have been used clinically for thousands of years and are thoughtfully combined in such a way as to address the multiple symptoms of both conditions stated above. The herbs are naturally anti-inflammatory, wound healing, anti-microbial, and analgesic to name a few of their medicinal benefits.
We use only the highest quality non-GMO medicinal herbs in our products. Each herb included in CamWell creams is hand-picked from the wild in its native habitat. Like grapes for a fine wine, our herbs need the right combination of soil, temperature, sun and shade in order to flourish. Because our herbs are grown in their native environment, they have a higher concentration of active medicinal component than those grown elsewhere.
Terri, How Did You Get Involved with Unitech?
I got involved with CamWell botanical creams because I truly believe in the effectiveness of these products.  To be able to offer something to patients where there have been really no effective alternatives and have them get relief has been very rewarding.  I have told friends that are dealing with cancer about our Hand to Heal™ and have got to see first-hand how it has helped them, even with symptoms of neuropathy.  My goal is to get the word out so more patients can realize the benefits of these botanical products. We look forward to continuing to transform healthcare and promote wellness for cancer survivors.