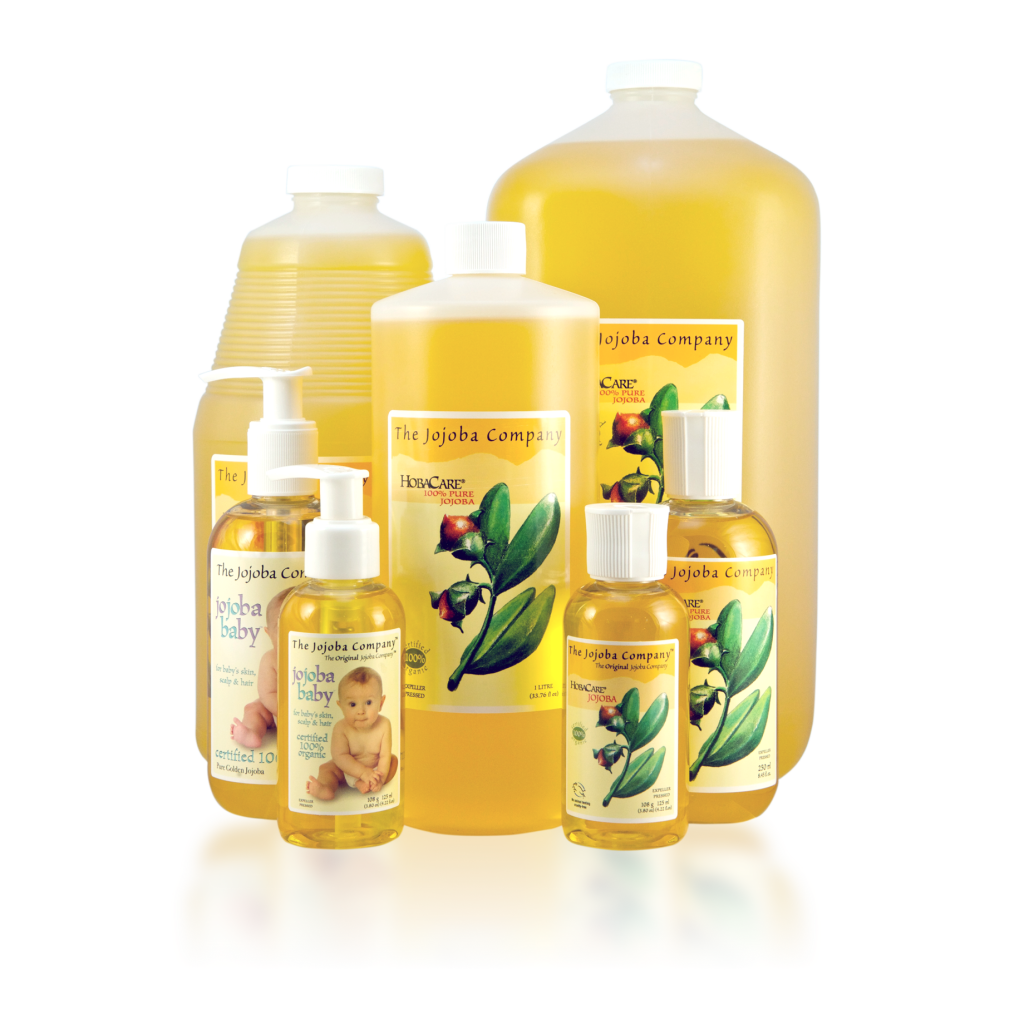 An Interview by Marianne Woods Cirone, MS, MFA, CYT-500 with Bob Butler who has been in the jojoba business since 1989, when he took charge of an investment in a 1,260-acre jojoba farm in Hyder, Arizona.
Bob and his wife Sally are proud that The Jojoba Company occupies a carbon neutral building and supports other green companies that make sustainable, safe, and environmentally friendly products for their customers. Bob can be contacted by email.
Bob, can you tell us about The Jojoba Company and how you got started in the jojoba business?
We established The Jojoba Company, d/b/a The Original Jojoba Company, in 1994 to market the jojoba our Arizona jojoba farm produced. At that time, we lived in Boston, and we called ourselves The Boston Jojoba Company. Our goal was to grow the jojoba seeds, have them pressed to our unique specifications and then to bottle the seed extract to make it available to the general public. We were the only vertically integrated jojoba grower at the time, and we remained so until we sold our farm in 2005. We now source our jojoba from growers who meet our specifications.
We moved to Maine in 2005 and changed our name to The Jojoba Company. We added the d/b/a because an Australian company began using our name. We are The Jojoba Company d/b/a The Original Jojoba Company.
During the 21 years of our corporate life, our mission has remained the same: To provide the best personal care product available at prices that people can afford.
What is jojoba oil and why is it so popular?
Pure jojoba is not really "oil"; it's a liquid wax ester akin to the esters humans produce in their skin. Oils turn rancid, they stain, people are allergic to certain oils, and oils can clog pores. Our jojoba does not turn rancid, does not stain, is non-allergenic, and does not clog pores. One should be aware that providers of certain fragile oils will often use stabilizers to inhibit oxidation. Some stabilizers are natural, others are not.
As for jojoba's popularity, I wish more people were aware of its safety and usefulness. Accurate knowledge about jojoba is largely confined to manufacturers and a relatively small market segment of environmentally conscious consumers.
We make it our business to educate customers about our jojoba, what it is, how it's produced, and how it's used. Our customers know it's safe, that it does what we say it will do, and that it's great for the face, skin, scalp, and hair.
Can you tell us about your jojoba products and what is special about them?
Unlike most personal care companies, we do not have a "line" of jojoba products. Our pure jojoba, used by itself, is usually sufficient.
The expeller press extraction process we use is physical. We do not add or use chemicals. We press, and then we filter to remove sediment. We keep it simple.
Some companies refer to their jojoba as "cold pressed." In fact, it's impossible to press jojoba without creating heat. Jojoba seeds are quite hard; processing them requires a lot of pressure, and as we all know, pressure creates friction, which creates heat. The key to pressing jojoba seeds responsibly is to avoid pressing too hard.
Most companies press hard to maximize yield; we press lightly to optimize quality. We do not mix first-press jojoba with second-press jojoba or with refined or solvent extracted jojoba. (The solvent is hexane, a known carcinogen.)
Mass produced products with jojoba invariably require emulsifiers, chemical additives that keep ingredients in a formulation from separating from one another. If you look at lists of ingredients for products containing jojoba, you're immediately impressed by how long the lists are! And, they contain things you can't pronounce. Manufacturers won't explain that the jojoba they use is refined and the amount in the bottle is token, just enough to put the word "jojoba" on the label. You'll find jojoba in lots of different products because manufacturers recognize its value. Regrettably, they don't put enough jojoba into their products to really benefit the consumer, and then they compromise jojoba's value by adding chemicals.
That said, we fully support a host of small businesses which use our jojoba in combination with other pure ingredients to make their very special personal care products. When you find those gems, support them. Their products are very special.
It sounds like jojoba oil is very pure, in fact on the EWG skin deep site, the jojoba products mostly had a rating of 1, which is the safest. Can you comment on that and on the organic topic?
There are a number of organizations which are trying hard to improve the quality of personal care products, and the U.S. Congress is now considering legislation sponsored by Senators Collins (Maine) and Feinstein (California). People are understanding that some chemicals in personal care products and cosmetics are of concern.
We are members of the Campaign for Safe Cosmetics, of which Environmental Working Group (EWG) is a founding member. We were an original Safe Cosmetics Compact signer way back in 2004. The Campaign, into which Compact signers have migrated, is part of The Breast Cancer Fund. The Breast Cancer Fund works hard to spread awareness of the harmful chemicals found in many cosmetics and personal care products.
We are not active participants in EWG, but note that EWG have given our jojoba a "1" and refer to it as "2010 formulation." However, we take them to task for not doing their homework. We have never formulated, and our 100% pure jojoba in 2016 is the same high quality single-ingredient product as it was in 2010.
Maine Organic Farmers and Gardeners Association (MOFGA) is our organic certifier. They first certified our 100% organic jojoba to USDA NOP standards in November 2007. We've been working with them since then to ensure our organic jojoba always meets USDA NOP standards.
Our organic jojoba has always been 100% organic. You'll find products that have the USDA Certified Organic logo, but they're not 100% organic. How can that be? To our dismay, USDA allows products that are 95% organic and even products that are "made with organic." We've always believed that an organic product must either be 100% organic or it should not be certified.
Some companies have had their refined jojoba certified as "organic." Refined jojoba is jojoba that's been de-colored, de-odorized, stabilized (often with a synthetic tocopherol), de-gummed and neutralized. It does not have the natural golden color of unrefined jojoba, and it's odorless. Refined jojoba producers have used the 95% organic standard to obtain their organic certification. Such actions are misleading and indicate the incongruity of the "95% organic" standard, which is not credible.
If you're intending to use a product containing jojoba as an ingredient, ask if the jojoba has been refined or solvent extracted.
Can you give some ideas on ways that people can use jojoba oil in place of other products that might contain more potentially harmful chemicals?
Our retail and professional customers use our jojoba as a base for essential oil blends. They also use it for full body massage, to deep cleanse the skin and for facial massage. Our jojoba conditions the hair and scalp, and it's an all-over skin conditioner, which most people apply after a shower or bath instead of formulated moisturizing lotions, creams or gels. I shave with jojoba, mixing it in my hand prior to application with a bit of pure aloe Vera.
Are you aware of places and settings related to cancer care that are using your products and what kind of feedback have you gotten from consumers or medical professionals?
We proudly provide jojoba to a number of major hospitals and cancer treatment centers, including Mayo Clinic and Sloan Kettering. We're constantly challenged to ensure we meet their very high standards. Please review the testimonials on our website from customers who have endured chemotherapy and radiation treatments (www.jojobacompany.com). After cancer treatments, some of our customers have had reactions to formulated skin and hair care products and have switched to our jojoba.
Are there any other stories or information that I haven't asked about that you would like to share?
I can tell you about the armed men who arrived in our valley in Arizona to steal jojoba seeds. But that would off-topic. Maybe another time.
See also: Jojoba and the Cancer Patient: Essentials Facts for Glowing Skin by Oncology Skin Care Expert, Geralyn O'Brien