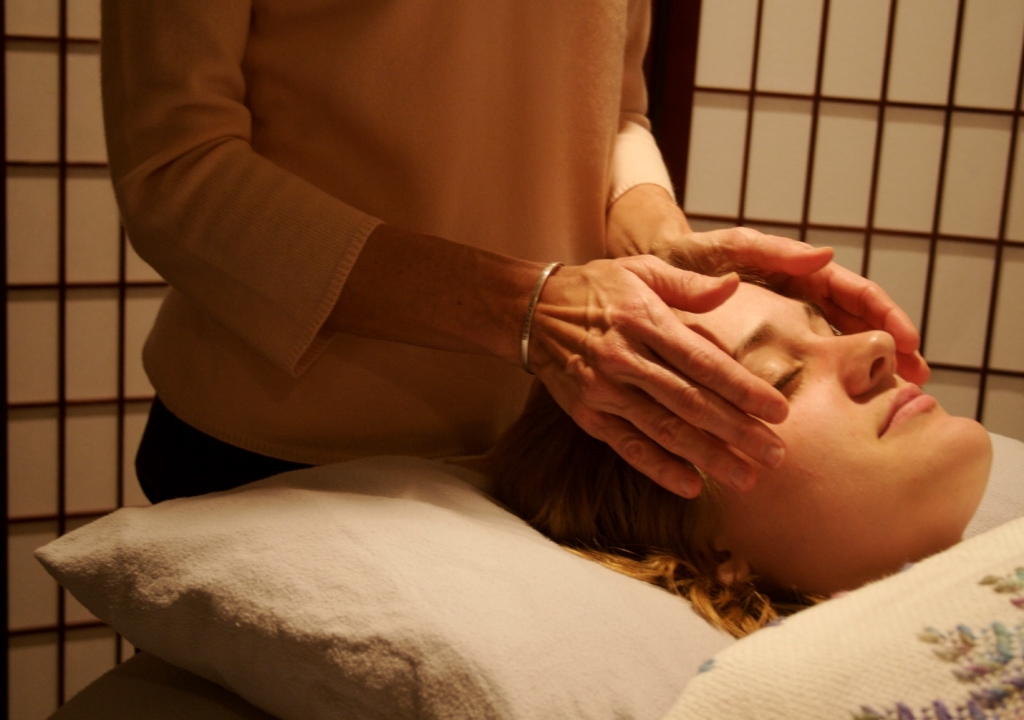 Photo courtesy of the Reiki Share Project
"The first time I went through chemotherapy for breast cancer, private Reiki sessions helped me deal with stress. I was encouraged to take a class through The Reiki Share Project. After a couple years, I was diagnosed with recurrent cancer requiring further treatment. I self-treated with Reiki in the weeks before and after surgery. I also received regular sessions from Reiki practitioners.

I credit Reiki for contributing to my rapid, comfortable recovery. When my skin was painful from radiation, I followed the recommendations of my healthcare providers for treatment and then I added Reiki. All of this together helped make the pain tolerable and I healed more quickly. 

I would never give up my allopathic treatments for recurrent breast cancer but Reiki is a wonderful addition to standard medical care."

— Cindy, Cancer Survivor
The Origins of the Reiki Share Project
Jane Van de Velde was an early proponent of integrative care for people affected by cancer. With a strong background in Western medicine, Jane was a nurse with a Doctorate in Nursing Practice from Rush University and 30 years of experience, who was also a practicing Reiki as a Reiki Master Teacher. Reiki is a gentle, energy-based healing modality, whose benefits include relaxation, stress reduction, mental clarity, pain relief, and an enhanced sense of well-being. Jane had seen the benefits of Reiki in her own life as well in the lives of many others she had connected with as a volunteer at a cancer wellness center.
Jane wanted to take her Reiki practice to another level and had a vision of creating a standard Level I Reiki class that could be offered by healthcare and community organizations to people and caregivers dealing with serious and chronic illnesses. Her years of experience as a registered nurse; her Reiki volunteer work; and the experience of a Reiki nonprofit organization in Cleveland, Ohio called Reiki Rays of Hope all inspired Jane to bring this project to fruition.
In 2009, Jane founded The Reiki Share Project (TRSP), a 501(c)(3) corporation dedicated to providing Reiki classes to individuals and caregivers dealing with serious illness, disability, or trauma. As an innovative leader, TRSP empowers individuals to participate in their own healing process; integrates the practice of Reiki into health care systems and community-based organizations; and fosters a caring and supportive wellness community.
A key element of TRSP is to cultivate a professional public perception of Reiki as they move the practice in community and healthcare settings. Jane says, "I knew that my own Level 1 Reiki training was taught from a very metaphysical perspective and that I would have to offer a much more 'nuts and bolts' version to teach in health care settings." Another major element of The Reiki Share Project program is the Reiki Master Teacher training and orientation, in which all of the TSRP teachers receive specific guidelines to use when they begin training students, to encourage consistency and professionalism in the training program.
The Reiki Share Project in the Community
"Through our classes and community outreach programs, we teach and support Reiki, a complementary healing practice that facilitates health and well-being through self-treatment and treatment of others. Upon completion of our classes, participants are able to self-treat with Reiki and offer Reiki to others," Jane said.
"Since January 2010, The Reiki Share Project has partnered with a number of nonprofit cancer support centers in the Chicago area. We offer Reiki classes to people diagnosed with cancer as well as their spouses, other family members, and friends. As of June 2015, over 300 students have completed our Level I Reiki class at these centers. Our classes were offered at a significantly reduced cost or for free to these students. The classes were subsidized by the cancer centers and by donations to TRSP. Through our partnerships with healthcare organizations and community groups, The Reiki Share Project provides Level I Reiki classes for individuals, caregivers, and professional caregivers."
The Reiki Share Project also started a Reiki volunteer program at the Elmhurst Memorial Center for Cancer Care in February 2012. Short Reiki sessions are offered to patients receiving chemotherapy or radiation, their family members as well as staff.  As of June 2015, over 450 Reiki sessions had been offered at the cancer center.  Recipients consistently report that their feelings of pain and stress lessen after these Reiki sessions. Some of the feedback included comments such as, "I felt like I was sitting in sunshine," and "I feel much lighter and much better. I feel more hopeful."
The Reiki Share Project Review
As someone who has taken The Reiki Share Project Level I Reiki class and as the former Wellness Coordinator at one of the cancer centers where Jane and her staff taught the classes to many cancer patients, survivors and caregivers, I can attest to the extreme precision and professionalism with which the classes are taught. The program is exceptionally well organized and documented; each participant leaves with a binder of theoretical and practical information put together in a clear and orderly manner. Jane bridges the gap between the Eastern and Western perspectives and make the practice accessible and rewarding.
Students consistently gave The Reiki Share Project classes top ratings and seemed to bloom after the experience, with feedback such as ""I think Reiki will improve my quality of life." Reiki seemed to provide an extra and important tool for navigating the cancer journey.  As one of their students commented, "Reiki may not change the outcome, but it will help me cope with the challenges of life."
For more information, to contact Jane or to donate to the Reiki Share Project:
Jane Van De Velde, DNP, RN
President / Reiki Master Teacher
The Reiki Share Project
Jane@thereikishareproject.org
630.244.8141
www.thereikishareproject.org
If you are interested in making a tax-deductible donation to support the work of The Reiki Share Project, please go to: http://thereikishareproject.org/donate/